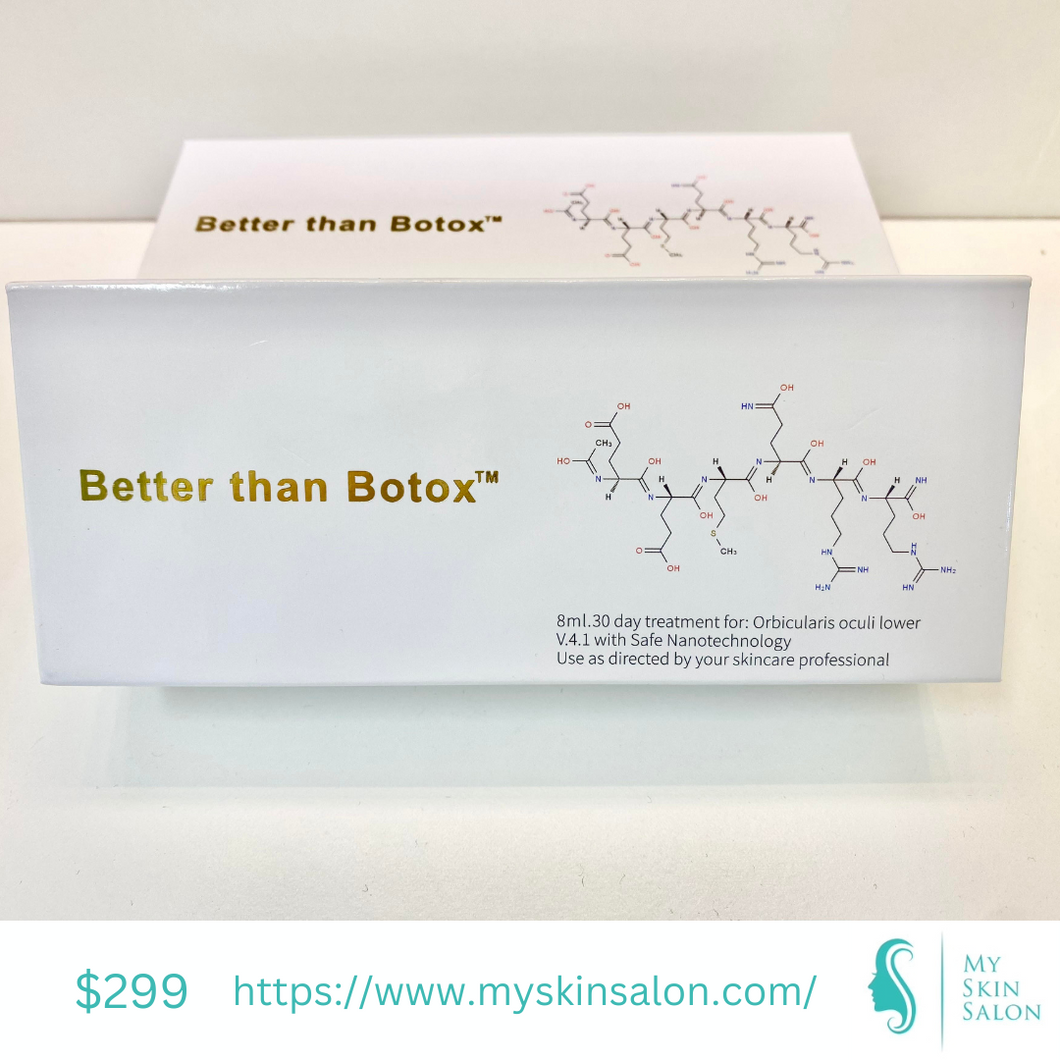 Better Than Botox™ Eye Serum
Regular price $299.00 Sale
Size: 6 ml
Duration: 30 day treatment
Made in: USA
Description:
The v 2.0 Better Than Botox™ Eye Serum is a FDA and Health Canada registered topical eye serum which uses the proprietary Nano Transport system to deliver active biologics under the skin.
Better Than Botox (BTB) is our flagship product that launched us and for good reason. There are plenty of eye wrinkle treatments available. They fall into 3 broad categories with varying degrees of efficacy. Topicals that work with scaffolding are fast acting but temporary, moisturizers are a fancy word for water and are very temporary and neurotransmitter blocks such as Dysport or Botox that are injectable active biologics administered by a licensed medical professional. BTB is an active biologic, non injectable neurotransmitter block with similar lasting effect to injectables. Selling or demonstrating BTB also requires professional training. Additionally BTB combines a near instant but temporary wrinkle treatment uniquely available to the eye area in this special serum.
A proprietary neurotransmitter block with NanoTransport  Hexapeptides 3,8 and 9 are the chief ingredients. This active biologic, wrinkle treatment works under the skin where the neurotransmitters block wrinkles for up to 6 months after a full 30-day dose kit.
This is the only wrinkle treatment system that uses safe, advanced Nanotechnology to deliver the wrinkle treatment in a medically relevant way. The results, along with hours of testimonials, speak directly to this.
DIRECTIONS TO USE:
The active ingredient work like Ona Botulinum Toxin A but with no spotty localized needles and a 3-month or more effect without the "too much BOTOX™" look. 
STEP 1: Activate Better Than Botox Eye Serum (BTB) by first twisting the white plunger slightly CC wise. Shake vigorously up to 1 minute. Pump the plunger until serum is available out of the attached white tip. 
STEP 2: Locate serum on your very clean lower eyes, crows feet and bags only. Use the white silicone tip to spread the serum on treatment area. The temporary effect will last up to 48 hours. The longer term neurotransmitter block begins to work after 5 to 7 days. 
STEP 3: It's important to continue daily treatment for the full 28 to 30 days without missing a day. This allows our neurotransmitter block to adequately enter the dermis to begin the long term effect for 1 to 6 months of significant wrinkle reduction or elimination. DO NOT USE FOR MORE THAN 1 MONTH or as directed by your skincare professional. 
STEP 4: Use a drop this much on each eye first time. Gradually try more to a maximum of 3 to 5 dots per eye. Sensitive skin? Test on back of palm prior to use on Orbis Occuli (Eye Area). Once applied DO NOT ADD OR ATTEMPT TO APPLY MORE BTB. Store in cool place. 
Family of Products:
Better Than Botox.clinic Copeptide 689.com Hexapeptide 389.com Tropocollagen F3.com
This product comes with a full no condition money back guarantee of at least meeting and exceeding all expectations.
Unconditional lifetime guarantee.