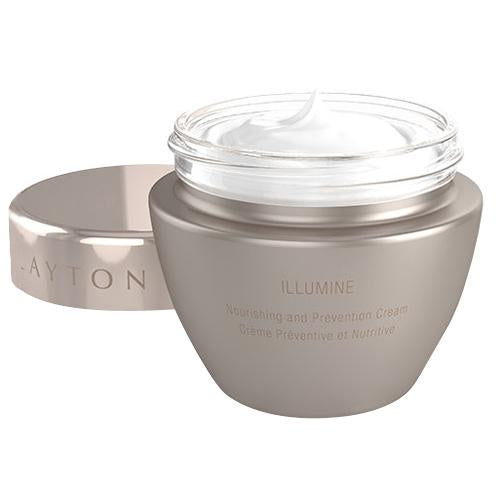 Illumine Cream
Regular price $92.00 Sale
Brand: Clayton Shagal
Size: 50 ml / 1.7 fl oz.
Skin Type: Normal, Dry
Effective, innovative blend of proteins and moisturizers that strengthen skin's barrier function against daily external aggressors. Preventive, nourishing cream that restores radiance and suppleness to your skin.
Benefits:
Stimulates cellular regeneration of the skin's heat shock proteins (keratin and filaggrin)
Strengthens the outermost layer of the skin (the stratum corneum) by creating a barrier that protects the skin against harmful environmental effects, free radicals, photoaging and oxidative stress
Preserves and stabilizes the hydrolipidic film to retain water and moisture in the skin and prevent dehydration
Prevents premature skin aging
Accelerates skin recovery after a chemical peel, microdermabrasion or waxing session
Soothes and reduces irritation, inflammation and redness
Moisturizes, nourishes and plumps the skin
Restores balance and suppleness to the skin
Tones, softens and revitalizes the skin
Restores radiance to the complexion providing luminous skin
Key Ingredients:
Squalane – Natural active ingredient of the skin, emollient that restores the lipid barrier with softening and conditioning properties
Sunflower Seed Oil – Antioxidant rich in Omega-9 and vitamin E with anti-inflammatory and nourishing properties
Hydrolyzed Corn Protein – Fortifies the lipid barrier and prevents dehydration
Artemia Extract – Cell regenerator and stimulator that protects the skin from oxidative stress and UV rays damage
Sodium Hyaluronate – Powerful moisturizer that restores softness and suppleness to the skin


50 mL/ 1.7 fl. oz.

Contains: Sunflower oil
Use:
Every morning and/or night, according to the recommendations of your skin care specialist
Cleanse skin with a Clayton Shagal cleanser
Pat skin dry and apply

 

Illumine Cream

 

to the face, neck and eye contour
Use after deeply nourishing Clayton Shagal products (gels and/or serums).